Dear WSTN Members, Supporters and Friends,
Our Capitol Hill Forum on LNG Exports from the Pacific Coast just concluded, capping a power-packed three days in Washington, D.C. The March 9 forum (video here) demonstrated our bipartisan credibility and ability to convene an impactful conversation with elected leaders, companies and policymakers about employing LNG as a tool for lowering global emissions and creating rural and tribal economic growth.
Building on the momentum from WSTN's December forum in Grand Junction, Colorado, our fly-in to the nation's capital produced many new avenues of potential support and international collaboration that WSTN will be pursuing in the coming days, weeks and months.
Over the two days prior to our forum, the WSTN delegation split into two groups to accommodate more than 25 meetings in Congressional offices, during which we were able to educate staff and some Members of Congress about our mission, vision and unique organizational structure.
The forum, like its Grand Junction predecessor, produced great food for thought, attracted media attention from influential outlets like Politico (paywalled) and LNG Intelligence – and a host of new action items to tackle. The Politico article, excerpts of which are below, nicely tied the WSTN D.C. Forum to ongoing LNG discussions and dialogue at CERAWeek.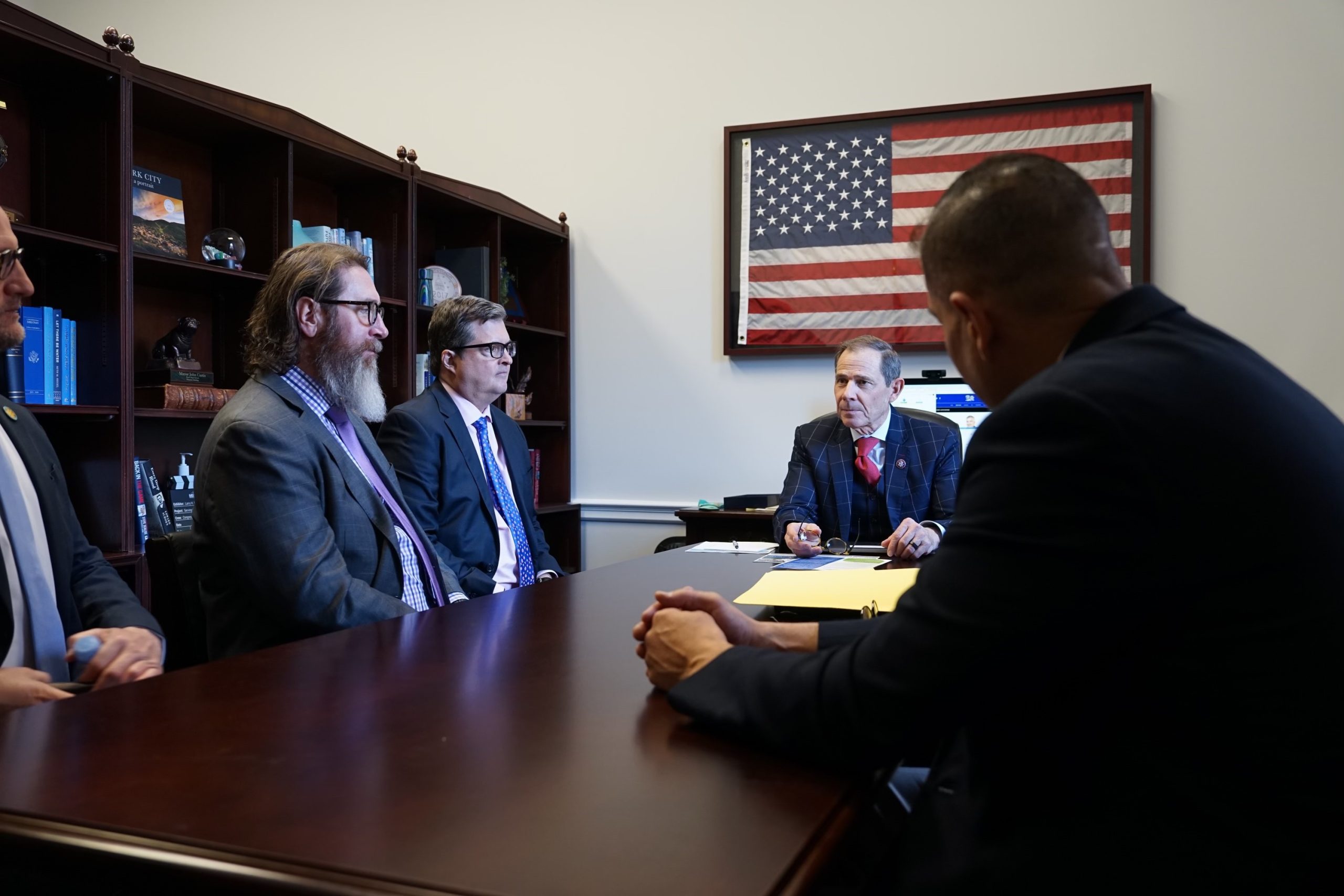 Rep. John Curtis of Utah listens during a meeting with the WSTN delegation including, from left, Jicarilla Apache Nation Oil & Gas Administration Director Todd Osmera, WSTN Chairman Jason Sandel of New Mexico, WSTN President Andrew Browning and at right, Travis Taylor, Director of Operations for the Southern Ute Indian Tribe's Red Willow Production Company.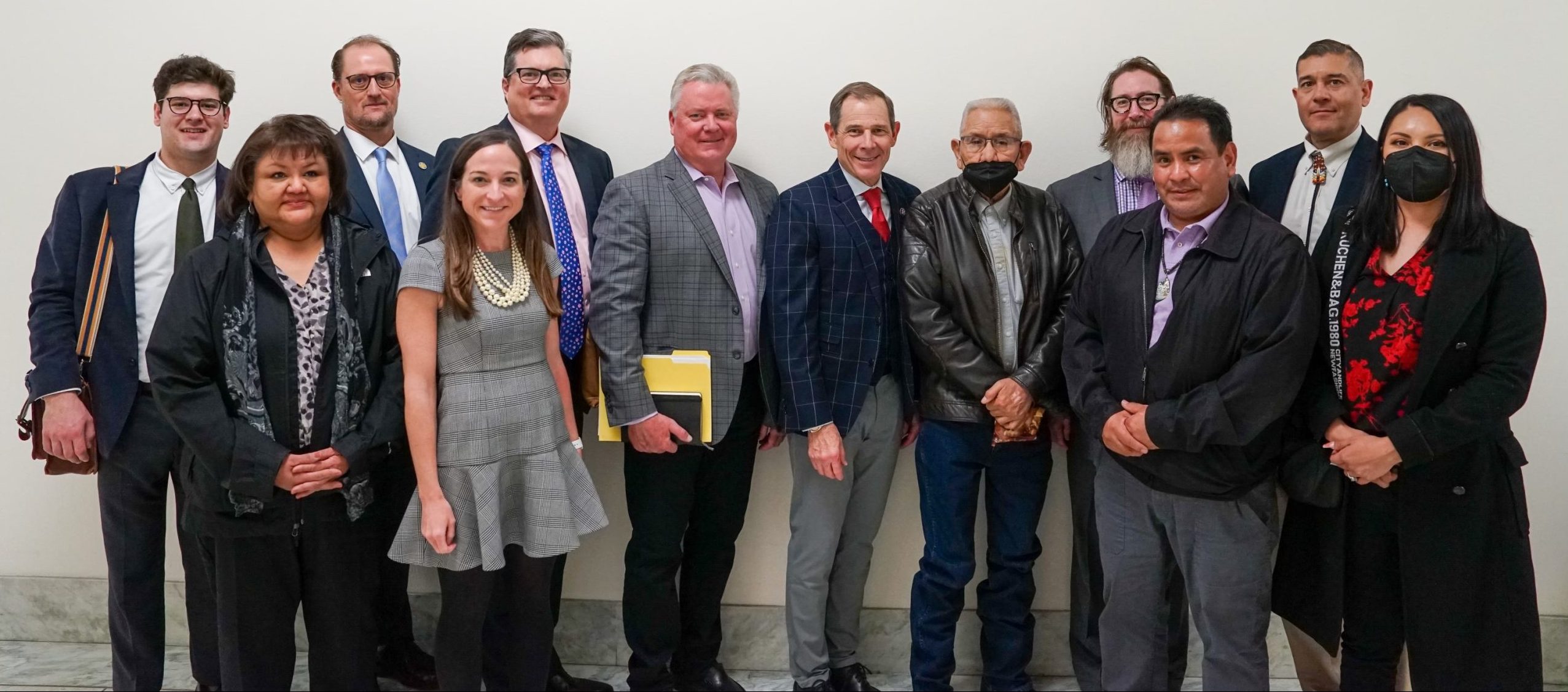 Rep. Curtis poses for a photo opportunity with the WSTN team.
It is appropriate here to thank all of our participants, guests and sponsors, and share some of the highlights:
We are grateful to the Honorable Hirai Hirohide, Vice Minister of Japan's Ministry of Economy, Trade and Industry, for his keynote address (available here) that previewed the case for LNG Japan will be making at the April meeting of the Group of Seven (G7) nations, which Japan hosts as this year's president. The Vice Minister shared what Japan views in U.S. and European-led global decarbonization plans, mainly the failure to prioritize energy security in a post-Ukraine world and the lack of realistic forecasting about what is achievable in certain timeframes. As Politico recounted:
WSTN would also like to thank our bipartisan sponsors, Sen. John Barrasso of Wyoming and Sen. Ben Ray Lujan of New Mexico for gracing us with their remarks and demonstrating the spirit of cooperation across the aisle. Their speeches are definitely worth watching and are available here for Sen. Barrasso and here for Sen. Lujan.
Southern Ute Indian Tribe Chairman Melvin Baker spoke passionately about tribal energy development principles on behalf of our sovereign tribal nation members, and Jicarilla Apache Nation President Edward Velarde's attendance drew recognition and praise from Sen. Lujan. WSTN is especially grateful for the attendance of the Ouray and Uinta Ute Indian Tribe's presence at the forum, given they are a founding member of WSTN and guided development of our organization's mission.
Our other speakers included:

U.S. State Department Energy Policy Advisor Marcus Lee, who addressed aspects of the Biden Administration's policy positions.
Tallgrass Energy Vice President Steven Davidson shared his company's vision for a decarbonized energy future, and how that is playing out across the U.S. through its assets and investments.
Wyoming Energy Authority Chairman Paul Ulrich spelled out Wyoming's pro-energy policy and ability to deploy up to $3 billion in state bonding authority to support energy development, a salient prospect.

WSTN Chairman Jason Sandel closed the forum with impassioned remarks about why energy development matters to rural communities, demonstrating how life-changing it can be for families and putting food on their tables.
I strongly encourage you to watch the forum video.
In the coming weeks, WSTN will have more to share as we follow up on the new opportunities this fruitful visit afforded us. As always, on behalf of WSTN, thank you for supporting, guiding and arming us with the expertise we need to keep growing and moving forward.
As I flew home to Denver from Washington, I felt a sense of promise for WSTN's future and that there is a coming global moment for LNG in line with our mission and vision.
I look forward to seizing those opportunities together,
Andrew Browning, WSTN President